PendelLabor | Ways to sustainable urban-rural mobility using the example of the Frankfurt Rhine-Main region
The project PendelLabor explores the question of how city-regional interconnections of commuters can be made more compatible by taking the strongly changing social and technological framework conditions into account. On the one hand, a social change in mobility is emerging. City dwellers are using multimodal travelling options increasingly, the range of transport options is becoming more diverse and some companies are contributing to more sustainable mobility with company mobility management. On the other hand, the number of commuters continues to rise - with well-known consequences for ecology, health and quality of life. The consequences for traffic, urban development and the environment are clearly felt in both types of municipalities - the ones employees commute out of as well as the ones they are aiming for.
Duration: 09/2020 – 12/2023
Goal: The aim of the project is to find innovative solutions for the sustainable design of city-regional interconnections of commuters using the example of the Frankfurt Rhine-Main region. A common understanding of the problem and the joint action of different actors in the city region should contribute to a socio-ecological transformation of the mobility system. The task of the SRP research group is to identify planning practices and scopes for action for a sustainable urban-rural mobility and to relate these to commuting as an everyday practice.
Approach: The project follows an inter- and transdisciplinary research approach in which researchers from social sciences, transport research and planning, mobility management, urban and spatial planning work together with practitioners from regional planning and mobility management. In a co-design process, ideas for measures to change commuting practices are developed with the aim of making commuting more sustainable. The most promising measures will be implemented in a field experiment in two corridors of the study region. The co-design is prepared by a social-empirical survey of commuting and planning practices, in which the actions of commuters and planners are examined within their structural framework conditions. The overall process will be accompanied by a stakeholder dialogue.
Project-related publications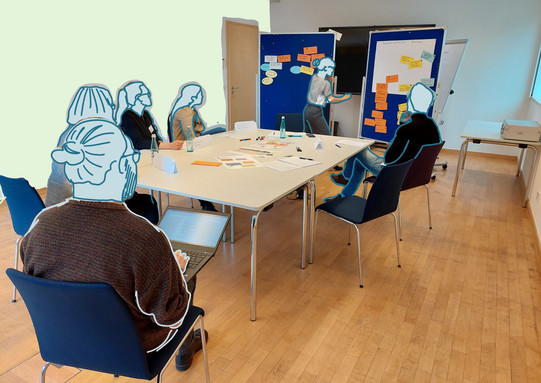 Consortium
Project Partners & Funding
Project Partners
ISOE – Institute for social-ecological research (partner project leader)
Rhein-Main University of Applied Sciences, Faculty of Architecture and Civil Engineering
ivm GmbH
Practice Partners
City of Frankfurt
Regionalverband FrankfurtRheinMain
Funding
The project "PendelLabor - Ways to sustainable urban-rural mobility using the example of the Frankfurt Rhine-Main region" is funded by the Federal Ministry of Education and Research (BMBF) in the funding priority social-ecological research in the funding area MobilitätsZukunftsLabor 2050 (funding reference 01UV2084B).
More information can be found on the research project's website: PendelLabor.